Our brand partner Strafe Outerwear creates high quality ski wear trusted by skiers of all levels across the globe. Committed to providing the highest performance all-weather protection, Strafe trusts eVent fabrics to protect users from snow, wind, and rain, while instantly venting out sweat that builds up inside the garment—keeping the user dry and comfortable all season long. We sat down with Strafe VP of Product Design & Development, Pia Holloran, to discuss how they use eVent in their Fall/Winter 2022 collection.
eVent Fabrics: Tell us about Strafe Outerwear
PH: Strafe Outerwear was founded in 2009 by twin brothers John and Pete Gaston. Unable to find ski clothing that worked during their high intensity adventures, they realized there was a need for a brand that focused on products for highly active skiers and snowboarders. Each piece Strafe makes is created with intention and has a purpose, and every style that goes to production goes through rigorous testing by our staff and ambassadors.
EF: As the VP of Product Design & Development, what inspires you and what factors do you consider when creating high-performing gear?
PH: Spending time outside inspires me every single day. It allows my mind to flow freely, and my ideas can spring from several things and moments— different activities, varying weather, the colors of nature, friends, and conversations. I live in a small mountain town, and having the trails and lifts right out my backdoor is priceless
Development and testing are two of the most important aspects for Strafe. As I mentioned earlier, our main goal is to create products that are intentional and made with purpose. When proposing new styles, the whole team is involved, and there are always a lot of ideas thrown around. Our brand is small compared to most others in our space, and I think our strength comes from being a tight-knit group of highly active people who are very dedicated to creating innovative products that make being outside more comfortable.
EF: We love the Nomad jacket and bib and the Meadow jacket and Scarlett bib in the collection this season! What enhancements can users expect in this season's launch?
PH: The primary difference for F22 is the lighter weight eVent DV Flex Nylon face fabric. Over the years, the styles have become more lift-riding specific and a little heavy, in my opinion. I wanted to bring them back to the original intent— a hybrid between backcountry touring and lift–riding. It's lighter, more durable, and like previous versions, highly air permeable. Paired with the right layering system, they work great for both activities, and we're all very pleased with how they function and look this season!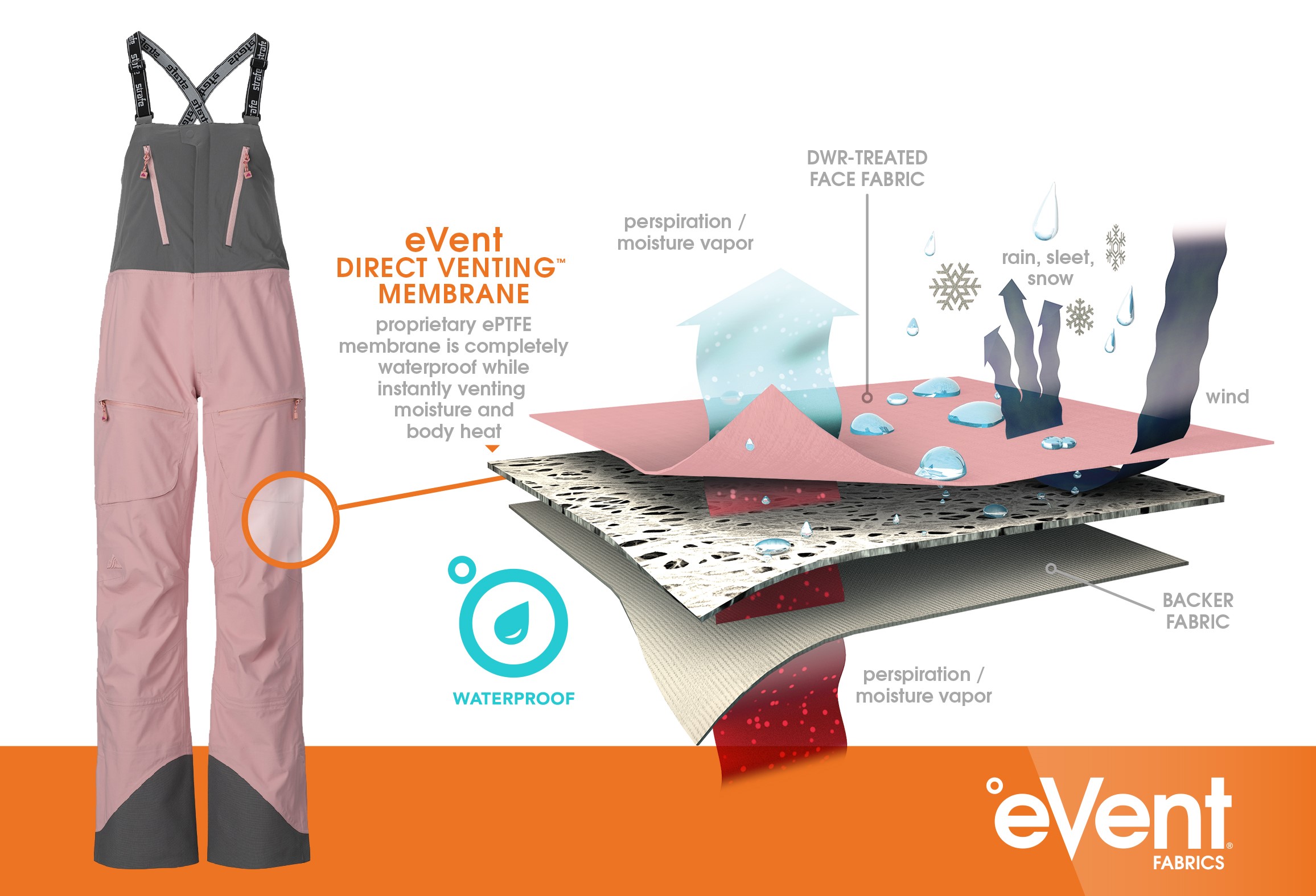 EF: New this year is a collaboration with Shredly on the Meadow Jacket and Scarlett Bib, could you tell us more about this partnership?
PH: Being fellow outdoor brands in the Roaring Fork Valley, our teams have always been friendly. When Shredly's customers started asking for snow pants, their team reached out to Strafe to see if there would be an opportunity to work together to create something exciting and new for both brands' female customers.
One of the main goals of this collaboration was to offer high-quality performance gear in a meaningful size range, using a print that speaks to the fun-loving spirit of the customer for both brands. I think we succeeded on all levels, and we are super happy with the result!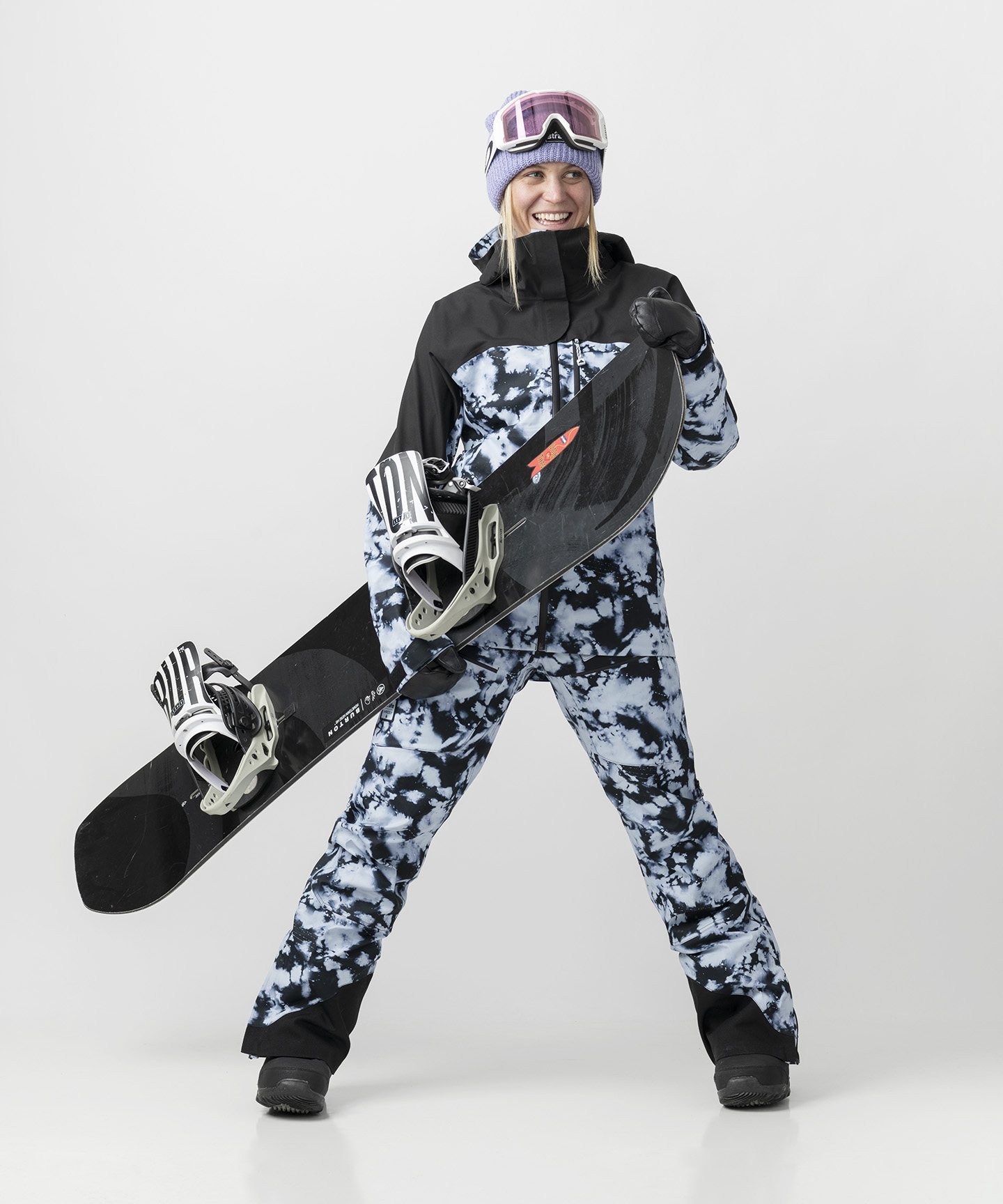 Strafe x Shredly Meadow Jacket
EF: Why does Strafe use eVent for their waterproof protection?
PH: We've been using eVent fabrics since 2013 or 2014 and obviously appreciate the function and durability of the air-permeable membrane and waterproof face fabrics. We believe using eVent fabrics in ski & snowboard apparel is the ultimate solution. It eliminates the hot and clammy feeling you might get wearing other less air-permeable fabrics while at the same time keeping you protected from the elements.
EF: As an accomplished snowboarder and experienced designer, what tips do you have for those who are shopping for a new kit for skiing and snowboarding?
PH: If you're only going to have one outfit, I always recommend buying 3-layer shell outerwear since it allows you to change the under layers depending on the temperature and season. I love how our eVent products make me feel, and most of the time, I'm not even thinking about my clothes which allows me to remain focused on what's ahead and down below!
There's no doubt about it—having the right gear as you shed through the backcountry makes all the difference. High-quality and built to last, Strafe Outerwear is intentionally designed to make your days on the mountain easier.
Headed for the slopes? Check out the 22/23 Winter Collection, available now on their website and at select retailers.