Sea to Summit is an ally in every adventure. The brand has been reliably outfitting explorers with innovative and reliable gear for more than three decades, building a legacy as durable as their products. Using the Western Australia Outback as their playing field and their own real life experiences to design some of the lightest and most durable products to develop gear for any environment. We sat down with outdoor enthusiast and Brand Marketing Manager, Margaux Maertens, to learn more about how they use eVent waterproof technology in their dry bags.
eVent Fabrics: Tell us about Sea to Summit
Margaux Maertens: Inspired by the Austrailian outback, Sea to Summit's inception was a result of outdoor enthusiast Roland Tyson's passion and talent for creating cutting-edge outdoor equipment. Named after outfitting a unique ascent of Mt. Everest, from sea level to the summit, the brand quickly grew into a successful global brand with the love of travel and innovative design at the foundation. Today, Sea to Summit still calls Western Australia home but has expanded to North America, Asia, and Europe with award-winning products such as sleeping bags, dry bags, tents, and cookware. We continue to be in every step of the journey from developing raw materials to putting perfected gear into the hands of our adventurous customers.
EF: Sea to Summit has been in business for more than three decades and has built a global following. What are the company's keys to success?
MM: What it comes down to is staying true to who we are and knowing who our customers are. First and foremost, transparency and authenticity is something we pride ourselves on. The backyard of Sea to Summit is the Outback, a constant reminder of who we are, what we do, and why we do what we do. Longevity and durability are our main focus. We are a tech-driven brand; our inventions are a result of being in the field and finding ways that we can improve our experiences in the wild. We're not a company that is looking to compete in all categories, if other brands have found a way to perfect a product, we don't touch it. We also believe that education is important. We want our audiences to know why we created what we did, how it can improve their outdoor excursions and be able to relay any knowledge to their own community. Lastly, we want to have fun along the way. Yes, outdoor experiences can be challenging on many levels, but they are also memorable and bring lots of laughs. We want to add to that with a touch of our Aussie humor!
EF: Knowing your gear is used on remote adventures and expeditions, performance and reliability are key. How do you test your products to ensure they'll stand up to the test?
MM: As is the case with all leading outdoor gear manufacturers, Sea to Summit tests prototypes and pre-production versions of its products 'in the wild' before they come to the market - the Outback in Western Australia and the rugged landscapes of Tasmania are some of our favorite testing areas.
What sets Sea to Summit gear apart is the quality of the materials used in the products, and the attention to detail in manufacturing them. Sewn seams are double sewn with short stitch lengths for durability; the compression straps are bartacked into the compression cap of the eVac Compression Dry Sack. Materials enhance both quality and functionality of this product: extremely high-quality PU-coated fabric, non-wicking Hypalon seal strips, and of course, eVent fabric on the base.
EF: The eVac Dry Sack, eVac Compression Dry Bag HD, and the eVac Compression Dry Bag UL all use eVent for waterproof protection. Can you tell us more about the dry sacs and bags?
MM: Yes! We are the first company to offer a full line of bags using the eVent technology. We relaunched our dry bags to highlight the eVent technology that introduces a waterproof but air permeable base that allows the user to push the air out while still keeping your contents dry inside. This means there's no need for a purge valve, making the eVac bags light, simple, rugged, and reliable. Purge valves add weight and complexity and have a tendency to fail (or simply not to work if the valve is left in the open position). The eVent material bypasses that.
All eVac Dry Storage uses a 70-denier nylon face fabric with a PFC-free DWR finish, with the exception of our eVac Compression Dry Bag HD that uses a 500-denier Cordura nylon face fabric.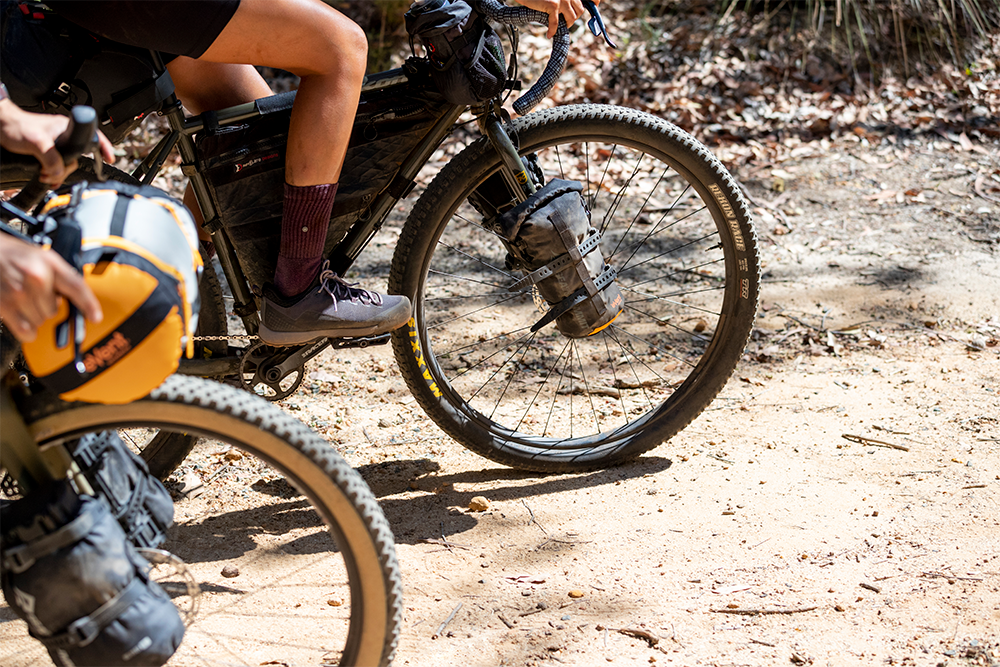 EF: Sustainability is key to both Sea to Summit and eVent. What is the importance of being environmentally conscious as a company in the outdoor space?
MM: We are proud to have product lines using bluesign® approved materials, recycled fabrics, Responsible Down Standard, and Non-PFC treatments but at the end of the day, we strongly believe that the most sustainable product is one that doesn't have to be replaced. We really focus on the durability and longevity of our products so that it's not a 'one and done' situation or even after a few uses. These products are meant to last a long time. Additionally, we have a Warranty & Repair department that focuses on repairing products that need it — at no charge. We want our products to last, and we go above and beyond to make that happen.
EF: As an outdoor enthusiast yourself, how does that drive product innovation and design?
MM: It's the small details and breadth of accessibility to the product. When I'm packing up for a backpacking trip, I'm concerned about weight, organization, space, and warmth. Our X-series allows for collapsible dinnerware and cookware, so you don't need to skimp out on a great food experience when you're in the backcountry. When I'm sailing or paddleboarding, I have complete trust in the dry bags keeping my valuable possessions dry and the various color offerings are great for organization, i.e.: dirty clothes go in the blue bag, clean clothes go in the yellow bag, etc. The small details like our PillowLock system, securing my pillow on my sleeping pad so it doesn't move around at night is a simple but impactful detail that allows for a better sleep experience at night. Again, Sea to Summit is a result of the founders' going out and having real life experiences on their adventures and wanting a different, more useful concept — so they went back and made it. We're excited to continue offering new variations of our products for an improved experience.
EF: With a passion and talent for creating cutting-edge outdoor equipment, what are a few pieces of gear you recommend taking on every adventure?
MM: It really depends on the adventure that you're taking and what is important to the individual. For me, personally, I always have a few of our dry bags. Specficially, our Lightweight Dry Bags and our Big River Dry Bags for protection and organization. I'm a big fan of the Lightweight Dry Bag View as the transparent siding 'window' lets me see the contents in the bags. I don't want to be fumbling around trying to look for something so this is timesaving. Additionally, I always have the Delta Cutlery Set, an X-Bowl and X-Mug for food. Lastly, my Aeros Premium Pillow and my Flame Women's Specific Sleeping Bag. Super packable and comfortable. I can always rely on the pillow and sleeping bag for a comfortable night's sleep. One thing that I'll say is that most of Sea to Summit's team members were long time consumers of the brand prior to working for the company, so we can really speak authentically and true with conviction to the reliability and durability of these products. Sea to Summit has a great reputation for a reason and internally, we are always stoked to talk about our personal experiences with the brand!
EF: Do you have a favorite outdoor story of your own that you would share?
MM: I'm originally from New England and spent a year completing all the NH48 (the 48 peaks in NH that were above 4K in elevation). If you're familiar with the terrain in New Hampshire, it's rugged. Let me tell you, the Colorado mountains, although higher in elevation, are easiers on the joints, ha! The outdoor hiking space is a community no matter where you are. I think my favorite outdoor story is my year doing the NH48 and meeting the variety of hikers trying to complete a similar goal. We come from all walks of life, yet we all share a love and passion for the outdoors and the support, both close and from afar, was amazing to see! I've made lifelong firends who I met just within that one year and created some incredible memories. Nature is a playground for us that needs respect, care, and appreciation. It's a humbling playground to play on and I hope that fellow outdoor enthuasiasts, both veteran and new, can continue to experience the same dose of "nature medicine" that I've had the honor of soaking in.
Sea to Summit offers a wide range of outdoor gear that caters to all types of adventurers. Their products are designed to withstand any terrain, from sea level to the highest ascent. Their passion for functionality is reflected in the innovative designs of their gear, which is created to make your outdoor experience more comfortable and efficient, whether you're a seasoned adventurer or a beginner.
Ready to gear up for your next adventure? Check out Sea to Summit's latest dry bags.